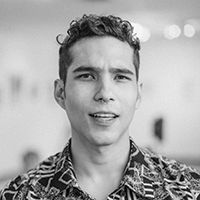 Chris is an international student from South Africa. Before moving to Australia, he was a gymnastics teacher back home. After he travelled to Australia on a vacation, he fell in love with the country and decided he felt very much at home here. Because of the political unrest is his native country, he decided to pursue his dream to become a bricklayer in Australia. He's only 21 years old but has big plans for his future.
Where do you study?
I have been studying bricklaying at TAFE QLD in Ashmore on the Gold Coast for almost 1 year. I have another year to go before I graduate. I plan on staying on the Gold Coast after my studies finish as the lifestyle here is awesome.
How many days do you go to class per week?
I only go to class two to three times per week. As myself and all of my classmates are very fast workers, we usually finish our assignments before the end of the school day. This means I don't have any homework and can spend the rest of the week working or doing whatever I wanbt.
Did you do vocational placement/work experience? If so, where
I found a placement quite easily by myself, even though the school would always help me to find a placement if I needed help with this. I am currently working for a family-run business on the Gold Coast that is sub-contracted by Metricon (a large building company in Aus).
Did you have to buy any extra materials?
For his course itself nothing else was provided and I didn't have to buy any materials, but for this job, I needed to buy some tools.
How are your teachers?
My teacher is superb and always comes up with some very interesting projects. We go around campus to build new structures, such as a vertical garden and a pizza oven. I have learned so much from him.
Tell us about your classmates?
The class is tiny, there are only a few of us, which is great because you get a lot of specialized attention.  We get along very well and became friends throughout the course. My best classmate is from England and is 25 years old. He has been living in Australia for 3 years and was previously working in his home country as a laborer.
What is the most difficult thing about the course?
The most difficult part about the course is probably not for him but for his teacher. This is the first time that TAFE Ashmore offered the bricklaying course to their international students and I think that the teacher is still getting used to teaching to different nationalities and cultures. I guess we learn a little differently from the Aussies.
What are your plans after you have graduated?
I love the Gold Coast and I will try to pursue a pathway to stay in Australia. Because of the nature of studies I chose, I will look to apply for a post-graduate visa after I finish my studies. It would be a dream to stay here permanently too.
Do you think it will be difficult to get a job in the industry?
I am very confident I will get a great job very quickly after graduating. I already work in the industry. There are very few international students who study bricklaying compared to most other trades. Bricklaying is also high in demand, so combined with the low competition I know I will find a job easily.
GET IN TOUCH
In case of questions, feel free to reach out to one of our experienced Registered Migration Agents.
Gold Coast Office
2242 Gold Coast Highway,
Mermaid Beach, QLD, 4218