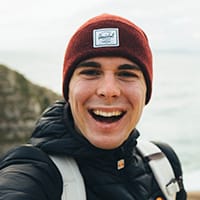 Having spent 2 years in Australia on a Working Holiday Visa, Daniel returned to the U.K before deciding that he wanted to return to Australia and try to make it his home.
What were you doing before you started studying an Associate Degree in Engineering?
I was travelling for 2.5 years and working casual jobs. Prior to that I spent 2 years in Australia on a Working Holiday Visa. Australia was my favourite place by far so I decided to come back on a student visa.
Where do you study?
TAFE Southbank (Brisbane).
Where do you live?
Coolangatta.
How many days do you go to class per week?
3-4 days.
Do you have homework?
Quite a lot, I spend 20 hours/ week outside of school hours doing homework.
How are you dealing with money?
I am bar tending part time and trying to find a Cadet ship. It can be difficult to juggle work and study.
How are your teachers?
Teachers are all great, the classes are small so if the teachers think you are falling behind they spend more time with you. I honestly can't fault the teachers, I am really happy I chose to go with Tafe.
Tell us about your classmates?
My class consists of a mix of people from all over the world- Europeans, Asians, Aussies.
What is the average age of your classmates?
Average age would be 25- 26 but there are people of all ages in my class ranging from 19-45 year olds.
What are you most surprised about the course?
Really surprised how diverse the class is 80% international students.
What is the most difficult thing about the course?
For me it would be commuting between Gold Coast and Brisbane. For the course itself just getting back into study after not studying for 7-8 years.
How are the facilities?
The facilities are great, I can't fault them.
What are your plans when you graduate?
I am planning to go on a graduate visa and hopefully by then I will have obtained work in the Engineering field. Ultimately my goal is to gain residency.
Do you feel like you are learning a lot?
Definitely, the course can be intense but it is a lot of industry related stuff there's no riff raff.
What is your favourite part about Engineering?
My favourite part of Engineering is the problem solving and the drafting.
Do you think it will be difficult to get a job in the industry?
No I don't think so, as long as I try earlier rather than later.
GET IN TOUCH
In case of questions, feel free to reach out to one of our experienced Registered Migration Agents.
Gold Coast Office
2242 Gold Coast Highway,
Mermaid Beach, QLD, 4218