Pathway to Aus
Helping You to Study in Australia
We believe that education and travel are the single greatest investments that anyone can make in life. Being able to combine the two, and learn a new culture and language, is the ultimate experience for any young person.
Pathway to Aus has a very efficient application process. Their process is well-organized and their agents who assisted me are professional and competent in their fields of expertise. Furthermore, the visa team replies to my queries in a timely manner. I highly recommend Pathway to Aus to those who aspire to apply as student in Australia.
Lady Marie Loyola
2023-07-13
Dear Pathway To Aus and to my Agent ALBA, Thank you for your invaluable assistance in securing my VISA. Your clear answers to my questions and swift support were instrumental in getting my application approved in just 11 working days. Your help has been truly appreciated. Your the best!
Rona Jahne Legaspi
2023-07-12
Very accommodating. Super satisfied with their services especially Sara, migration lawyer and also Jay and Chanealle. Thank you!
Jabes James Quibido
2023-07-11
Thank you to Sarah, Jay, and Rina for assisting me for an easy and smooth process of getting my student visa here in Australia. They are very quick to act and the best people to work with. I couldn't find any better agents to work with! Thank you so much, pathway to aus!
I would like to thank all PTA team, especially to Ms. Sara Cullen, Sr. Jay and Ms. Rina. 10 days after lodgment! GRANTED!!! God bless you all 🙏 Continue helping all dreamers to reach their dreams PATWAY!
Thank you so much Ms Sara Cullen, PTA Enrolment team (Patricia), Ms AJ Penaso and the visa team for the help. You really make our dreams come true.
Arra Dianne Marcelo
2023-07-10
Legit service 💯 Granted student visa with defacto ✈️ Thank you so much sir Jay Jurado, our migration agent. Very responsive and truly helpful. Thank you Miss Sara, our migration lawyer, for your expertise and kind words. Lastly, thank you to Ms. Ana Lincallo and the rest of the visa team for our comprehensive and exceptional GTE. Thank you PTA team for accommodating us ❤️ God bless to Pathway to Aus! 🇦🇺 Love, Arra and Vince
Corina Salamanca
2023-07-10
I am very satisfied with the service they offer. I would like to thank all of the PTA staff most especially Maam Sara and sir Jay for being accommodating to our questions and inquiries. To sir Cameron, thank you for being responsive and for making my GTE very strong. To the visa team, thank you also for the updates and for making my application as easy as possible. Thank you PTA fam, I'll always thank God that I had known this agency.
Riza Lyn Opiniano
2023-07-10
At last! Very Smooth and Fast Process 🥳 All thanks to PTA 💯 in less than 3 months I am now GRANTED 🙏🏼 For my exquisite GTE, Ms. AJ and of course to thanks to the amazing agents, Ms. Sara Cullen and Jay for a very fast accommodation ❤️. Thank you very much Pathway to Aus 🥳🥳
Free

Service

At Pathway to Aus, we believe in making your dreams of studying abroad in Australia accessible to everyone. That's why we offer our expert guidance and assistance to students completely free of charge.

No hidden fees, no strings attached – just straight forward support to help you achieve your educational goals.
Registered

Agents

When you partner with Pathway to Aus, you gain access to our team of registered migration agents, particularly concerning student and working holiday visas. Rest assured, you'll receive accurate and reliable advice to navigate the complexities of Australian immigration seamlessly.

Each of our skiled agents have provided and advice for countless students, helping thousands of students migrate and study in Australia with ease.
Partnerships

with Education Institutions

Our strong alliances with leading English language schools, vocational education providers, and universities across Australia set us apart.

These institutions trust us because they know we prioritise our student's best interests. As a result, they empower us to represent them, ensuring you have access to a wide range of educational options.
What Pathway to Aus will do for you?
We specialize in assisting students in enrolling in courses with articulation agreements with leading universities in Australia.
Down below you'll find a list of services and assistance that we provide to our students.
Pathway to Aus
Pathway to Aus is more than just a migration and education agency. We're your reliable companions on your journey towards a brighter future. Our dedicated team takes the time to understand your unique aspirations, providing personalised guidance every step of the way.
Whether you're seeking to enhance your professional prospects or broaden your global perspective, we're here to make your study abroad experience in Australia a seamless and enriching one.
With a commitment to honesty, efficiency, and innovation, Pathway to Aus is your trusted partner in realising your educational dreams.
Travel Arrangements
We will ensure that our participants have their travel arrangements organized prior to departure. We provide a pre-departure orientation and we even provide optional arrival assistance such as airport pick up.
Study Assessment
We provide guidance in assessing whether students will receive recognition for their study in Australia at institutions in their home country.
Application Forms
Assist students with the completing the application forms for the institution and converting the offer to a confirmation of enrollment
Accommodation
Assist students in choosing the best place to live your city and assisting in finding accommodation
Continuous Support
We will monitor student progress and assist with daily student life.
Health Cover
We can provide Health Cover information for your situation
Frequently Asked Questions
Answering Your Top Questions About Our Educational Support
Is Pathway to Aus free?
Pathway to Aus is deeply committed to supporting students on their educational journey in Australia, and a cornerstone of this commitment is our free advisory service. Recognizing the challenges and uncertainties of studying abroad, we believe that every student deserves access to expert guidance without the burden of additional costs.
Our dedication to offering these services for free underscores our belief in empowering students to make informed decisions without financial constraints. With Pathway to Aus, students can be assured that quality advice and assistance come without a price tag.
What Services Do You Offer?
At Pathway to Aus, we pride ourselves on offering more than just a standard educational consultancy service; we offer a personalized journey tailored to your individual needs and aspirations. Understanding that each student has a unique set of goals, challenges, and circumstances, our dedicated team invests the time to get to know you on a personal level. This allows us to offer advice that is not just accurate but also highly relevant to your specific situation.
From the moment you express interest in studying in Australia, we initiate a comprehensive consultation process. This involves understanding your educational background, career objectives, and personal interests. We also consider any constraints you may have, such as budget or location preferences, to provide a well-rounded set of recommendations.
Our personalized guidance extends beyond just course and university selection. We also offer insights into the Australian education system, local culture, and lifestyle, ensuring that you are well-prepared for your journey Down Under. Whether you're looking to enhance your professional qualifications, seeking a global educational experience, or both, our team is committed to making your educational journey in Australia as seamless and enriching as possible.
With Pathway to Aus, you're not just another applicant; you're an individual with dreams and aspirations, and we're here to help you realize them.
What Makes You Different?
Pathway to Aus sets itself apart through its core values of honesty, efficiency, and innovation. We prioritize trust and transparency, providing accurate and timely information to guide your educational journey in Australia. Our team is committed to offering quick, streamlined solutions, and we continuously update our services to stay ahead of industry trends.
What truly differentiates us is our personalized approach. We take the time to understand your unique needs and aspirations, offering tailored guidance in course selection, visa application, and more. By choosing us, you're not just getting a service; you're gaining a dedicated partner committed to making your dream of studying in Australia a fulfilling reality.
For proof of our commitment and quality, we have hundreds of 5-star testimonials from satisfied clients.
Is Pathway to Aus a legitimate company?
Yes, pathway to Aus is a legitimate migration agency that helps internationals migrate to Australia. You can follow us on our YouTube channel, Instagram, Facebook and Tiktok to find out more.
Is there a pathway or course to study that can lead to PR?
Yes, In Australia, there are several pathways for international students to study and potentially obtain Permanent Residency (PR). The most common pathway is through the Temporary Graduate Visa (subclass 485) and skilled migration programs. Pathway to aus can provide the best advice to making this pathway a smooth and possible option for you.
What are the most common courses to study that that can lead to PR in Australia?
The most common courses international students tend to study in Australia are trades, as there are several that can potentially lead to PR. Some of the most popular courses include carpentry, automotive mechanics, boat building, diesel mechanics, painting & decorating, plastering, commercial cookery and wall & floor tiling.
Steps to Studying in Aus
Here are the steps you need to take before receiving an invitation to apply for the visa.
Get in Touch
You can give us a call, send an email or enquire online using the form down below.
Set Study Goals
One of our consultants will reply to any questions that you may have and assist in determining your overall study goals whilst in Australia.
Find a Study Path
Our consultants will then talk students through a range of study options that best suit your needs and develop a study path.
Enrol to a School
Once a specific education provider has been chosen, your consultant will then help students complete their school application and assist throughout the entire enrolling process.
Apply for Student Visa
Once your enrollment has been confirmed, our qualified migration agents will assist in applying for your student visa.
Orientation at our office

During this orientation, students will receive:
Assistance applying for a tax file number
Assistance opening an Australian bank account
Assistance obtaining a mobile phone
Assistance in resume preparation
Advice on how to obtain an Australian drivers license
Advice on local public transport
Free internet access in our office
Free postal address for mail
All of the added perks come at absolutely no extra cost to the international students who enroll through Pathways to Aus.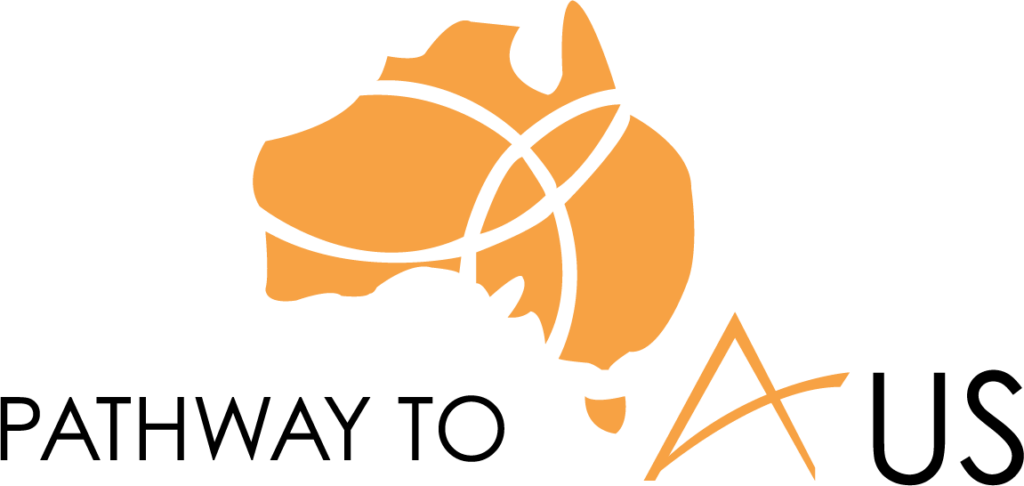 GET IN TOUCH
In case of questions, feel free to reach out to one of our experienced Registered Migration Agents.
Gold Coast Office
2242 Gold Coast Highway,
Mermaid Beach, QLD, 4218
Helping you to study in Australia
was last modified:
September 20th, 2023
by