Chefs plan and organise menus & kitchen staff at restaurants and for catering organisations.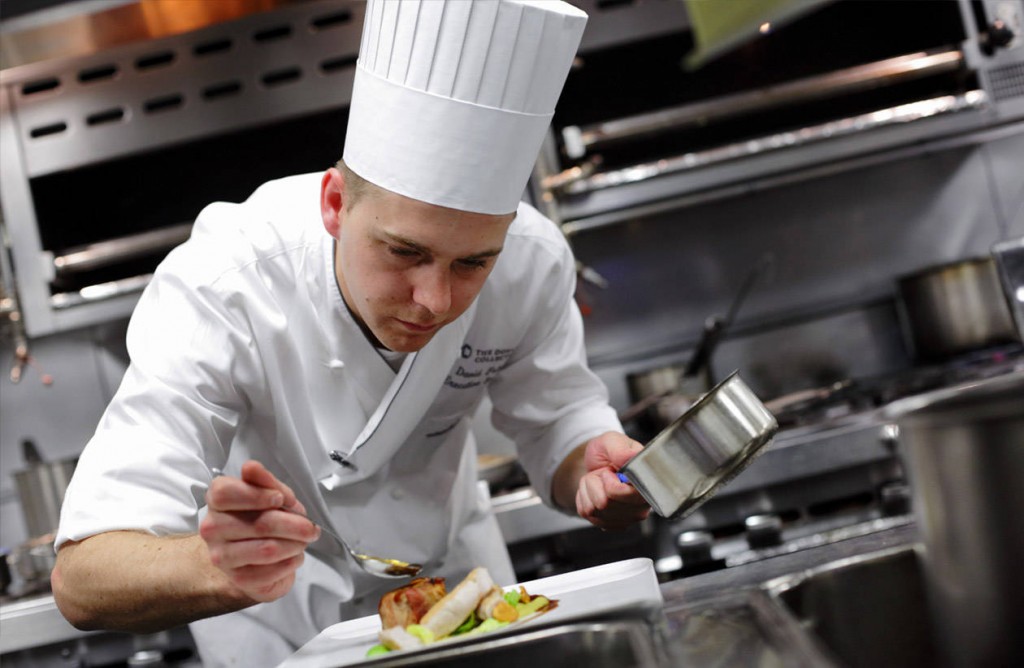 Chef is currently on the Medium and Long-Term Strategic Skills List (MLTSSL) If you would like to view the MLTSSL list please Click Here
Being a chef can be a very rewarding career with chefs being able to use their qualification all over the world in many different scenarios. Australia has a very vibrant food culture that is full of different multicultural influences. It is a great country to become a chef because of the high industry standards and the quality products that Australian chefs use.
The Course
---
Certificate III & IV in Commercial Cookery & Diploma of Hospitality
---
Course Duration: 24 months
Intake Dates: Jan, Feb, March, Apr, May, Jun, July, Aug, Sep, Oct, Nov
Locations: Gold Coast, Brisbane, Sydney, Perth, Melbourne, Adelaide, Cairns, Sunshine Coast
Costs: $10,000 – $13,000 per year
Common Course Requirements:
Must have graduated year 12 in home country.
Must have a minimum Englishs score of IELTS 5.5
This course includes 360 hours of vocational placement.
Graduate Outcome:
Students will learn how to motivate and lead kitchen teams, identify and asses operational and service issues, plan food production, schedule work flow and understand legal compliance issues, and plan, prepare and cost your own menu.
After completing your study, your possible job titles include but are not limited to: Chef de Cuisine (Head Chef or First Chef), Sous Chef (also known as Second Chef , they are second in charge), Chef de Partie (also known as a Demi Chef are in charge of a certain section of the kitchen). Samples of content covered in the course include:
Produce meat, poultry and seafood dishes.
Produce stocks, soups and sauces.
Maintain the quality of perishable items.
Food safe handling practices.
Prepare food to meet special dietary requirements.
Manage finances within a budget.
Implement and monitor environmentally sustainable work practices.
Menu planning.
Job Forecast & Career Information:
Fully qualified chefs earn on average $1000 per week
The average hours worked by a chef in Australia is 42.6 hours per week.
Employment for this occupation rose strongly in the past five years and rose strongly in the long-term.
78% of Chefs are employed on full time basis. Which is above average compared to other roles in the hospitality industry.
Chefs in Australia can work in numerous different roles and areas.
---
Education Pathways
Chef (351311) – Is currently on the

Medium and Long-Term Strategic Skills List

. The skills assessment for Chef's is delivered through TRA.
The current education qualification requirement to obtain a positive skills assessment is Cert III in Commercial Cookery. You may even be able to do this without being sponsored by an employer and you may not need to live in a regional area. Below are some simple steps that may allow you to go down this pathway.
Step 1: Study a course or package of courses that go for at least 2 years and includes the Cert III in Commercial Cookery
Certificate III in Commercial Cookery (General) (18 months)
Diploma of Hospitality (6 months)
Step 2: By studying for 2 years and undertaking 360 hours of vocational placement during your studies (most education providers will arrange this for you), you may be eligible to apply for and receive the temporary graduate visa
The graduate visa is a work visa that allows the visa holder to live and work in Australia for up to 18 months. For more information on the graduate visa click here.
Step 3: On the graduate visa, you will be able to undertake part in the Job Ready Program.
The benefits of the JRP is that on completion you will be provided with a positive skills assessment for general migration purposes. On this program you must work for at least 12 months as a qualified Chef. Your employer will not need to sponsor your visa, as you will already be on the graduate visa. This will mean that you have a lot higher chance of finding employment as it is very easy for the employer to hire you. You may find this video on the Job Ready Program helpful.
Step 4: Once you have completed the Job Ready Program as a Chef you will receive a positive skills assessment. Once you have the positive skills assessment you will be able to apply for general skilled migration visas.
If eligible, the general skilled migration visas do not require you to have an employer that is willing to sponsor your visa. Please note that you will still be required to pass the points test and health checks to apply for this visa.
*Note* It is never recommended to undertake study for the sole purpose of trying to gain a visa to Australia.
---
For More Information about this study course or resident visa options please contact Pathway To Aus:
P: +61 7 55 327 000
E: info@pathwaytoaus.com
or Apply or Enquire online