Tom is a client of Pathway to Aus who we assisted transition from a working holiday to 457 employer sponsored visa then finally to a Permanent Employer Nominated Visa (Subclass 186). He works an an electrician in Australia
When did you initially come out to Australia?
I was working as an electrician in back home in England. I came out to Australia with my partner on the working holiday visa in 2014 and then extended on after doing regional work.
What was your pathway to the visa?
On my working holiday visa I was working for my employer on The Gold Coast as a trade assistant.  I knew that I wanted to stay longer as both me and my partner were enjoying it so much. It just wasn't the right time to go back to England. So I talked to my employer who wanted to keep me full time and through Pathway to Aus we applied for a 457 visa.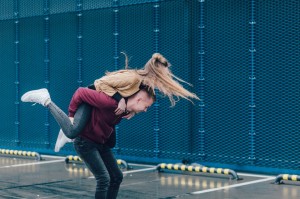 What do you do in your job?
I work full time as an electrician.
Any advice for someone thinking about moving to Australia?
It is like anything really. It is tough to find the right employment at the start , but once you have your foot in the door and are a hard worker there are options.
What are your plans for the future?
I was previously on my 457 visa and once I obtain my full license and applied for a permanent employer sponsored visa because Electrician in on the list of jobs in demand.
Why did you come to Australia?
I genuinely love footy and follow Rugby a lot, on The Gold Coast I have become a member of The Gold Coast Titans Rugby League Club and go to all their games. Also the weather is amazing the lifestyle is amazing. Plus the trade skills and requirements are very similar to back home in England.
What is difficult to work as an Electrician in Australia?
I think that English and Australian trade requirements are pretty similar. To be honest, if you are a sparky you are a sparky, however there is a lot of paper work that had to go into it.
Initially on my working holiday visa I was working as a trade assistant. Then I did my provision skills assessment and got my provisional license. In order to do this you have to do a 1 or 2 day assessment.
I'm now in the process of getting my open Aussie electrical license. Which means learning to Australian standards. On the provisional you need to do gap training and then work supervised. I do a lot of home study and keep a log book for 3 – 6 months of job duty to show you are working full time. You can then do a 2 day exam and then get your full license.
I have to do a little restudy to get my license. But it is turning me into a better electrician. I am learning Australian standards. The job is the same, but reading the books gives you good ideas to improve your methods on the job.
How is the pay as an electrician in Australia?
It is pretty good. Especially when you work for a decent sized company because you get good overtime and penalty rates. At the start it is difficult to get your foot in the door.
How did Pathway to Aus help you?
Pathway to Aus took everything on their own back. Immigration is a technical thing, there are so many different things you need to do. They were accurate with the time scales, advice on all the different options and everything. To be honest no matter what you are always going to worry about it, but they are professionals and take a lot of that stress. We are stoked it all worked out.
Tell me about how you started?
It was referred by a friend who also used Pathway to Aus.
---
If you are looking for migration or education advice to see if you can find a similar pathway, feel free to contact Pathway to Aus to speak with one of our Migration Agents.
P: +61(7)55265 900
E: info@pathwaytoaus.com
Or Enquire or Comment below
Tom (UK) – from working holiday to Permanent Employer Nominated Electrician Visa
was last modified:
May 28th, 2019
by