Paolo is a client of Pathway to Aus who we assisted transition from Working Holiday visa (subclass 417) to Student visa (subclass 500) to Employer Sponsored 457 visa. He now works in the construction industry.
What were you doing when you came out to Aus initially?
I came out on a working holiday visa and worked in a farm to get my second working holiday visa. I was picking basil. It wasn't too hard, but we worked everyday and earned decent money. Then I moved to Brisbane and found some casual work in security. Then I started working in construction.
What was your pathway to the visa?
I was on a working holiday visa, then I switched over to a student visa and studied a sports and recreation course and then studied a short business course. Finally my employer agreed to sponsor me on a 457 visa.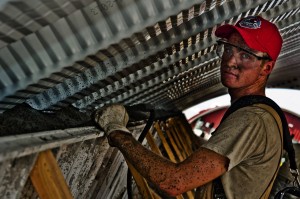 What do you do in your job?
Now I am sponsored to work in construction in Brisbane.
How did you find your job?
The job was initially referred to me by a friend who found the job on Gumtree.com. After working for him as a casual on a student visa, I proved that I was worth keeping on and eventually my visa was running out so the builder sponsored me.
Do you have any advice for someone thinking about moving to Australia?
Think carefully about what you want to do. If you are planning to do both working holiday years, I would advise you to prepare and start on the farm job when you arrive. Because otherwise you have to leave wherever you are living to go and do farmwork.
Why did you come to Australia?
I had a friend who wanted to come here, and it was kind of spur of the moment, conditions in Italy at the time were not great. But I am really enjoying myself here.
How do you feel about construction industry in Aus?
In Australia everyone is very speciliased. Electricians, carpenters, roofers, plumbers, concreters, steel fixers, everyone does their own part of the construction. Where as back home you often do a lot of the work and are not as specialized.
How did Pathway to Aus help you?
They were very patient as my case took a long time. They helped me a lot with every aspect of the visa. We started on a student visa and then helped with the employer sponsored visa. Pathway to Aus explained everything in detail, checking all of the documents to make sure we have everything, talking with my employers, lodging the application. I couldn't have done it myself.
Tell me about how found Pathway to Aus?
I think it was online through Facebook.
---
If you are looking for migration or education advice to see if you can find a similar pathway, feel free to contact Pathway to Aus to speak with one of our Migration Agents.
P: +61(7)55265 900
E: info@pathwaytoaus.com
Or Enquire or Comment below
Paolo (Italy) – from working holiday to student to employer sponsored construction worker
was last modified:
July 26th, 2018
by